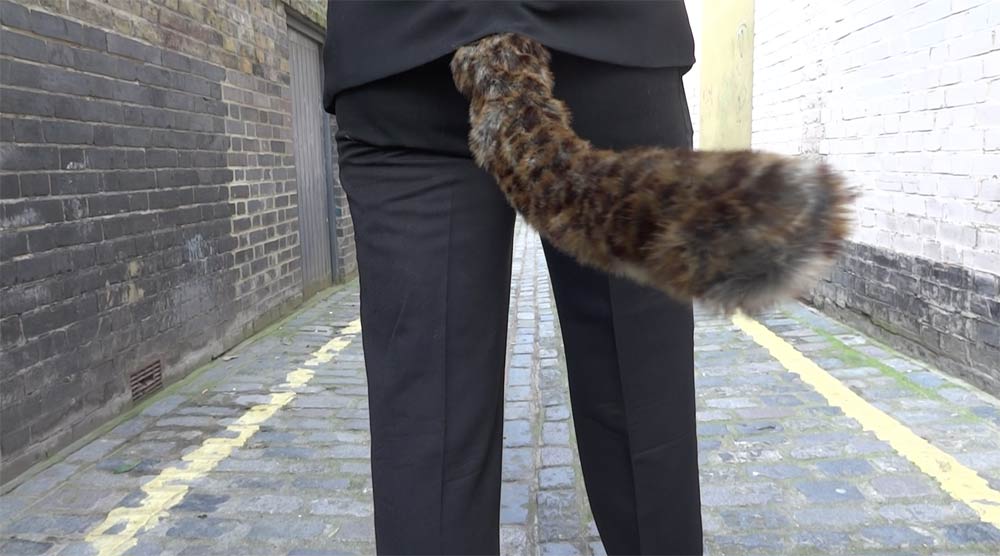 Why do you make Tails?
Because evolution was unkind to us, wasn't it?
Who wears Tails?
All different kinds of people – from Cosplayers to Furries, from Performers to Neko folks to Costume Designers and LARPers. And with over 1000 of our Tails out in the wild, this is the best place to get that extra limb you have always wanted.
Do you make ears too?
Yes! Just choose some when checking out. We will match it to your Tail fur too!
Can I get a pattern to make my own covers?
Oh yes! Here is the Baby pattern, here is the Original Pattern and here is the XL and Super XL. Patterns for the extra-wide Tails are coming soon as are the Super XL ones.
How much do your Tails weigh?
A baby Tail weighs 300g (.6lbs) an Original weighs 550g (1.2lbs) and an XL is 600g (1.3lbs) – Extra wide Tails and Super XL tails weigh a bit more. ALIEN tails weigh around 800g (1.6lbs)
How long does it take to make a Tail?
Every Tail is handmade by us in the studio. Standard tails take a few days to make, elaborate ones might take a week. But getting each one done depends on the Tails in the queue! So on average, Tails are shipped out 3 to 4 weeks from the order time, sometimes quicker sometimes a little slower! If your order is time critical, please drop us a line before you get one to ask how long it might be. Remember we have a Rush service which bumps you up the queue and puts you on next day delivery. Rush tails take precedence over normal tails .
What about shipping?
We offer an excellent courier service (takes around 4 days to get to you, anywhere in the world, once its made) with FedEx, because its proven to be the most reliable, and we have tried lots! If you need a super-quick service, for next day delivery for example, you can select RUSH JOB at checkout – we bump you up the queue and put your Tail on a next day service! It still take a few days to make the tail, but we can usually hit your dates. A note about the Rush service: we still need to make the tails up, and how long that takes depends how many other Rush jobs are in the queue. When it gets very busy, it can still take a week, occasionally a little longer. So please do ask first if you have a date in mind!
Can you customize my tail?
Oh yes! We are very happy to change colours, add bands, or whatever you can imagine. Most customization are free too! Occasionally we need to find a special fur that might add a small extra cost but we will let you know before we call it in. We do our absolute best to match colors. If you want to change them afterwards, there may be a small extra cost.
What is a Naked Tail?
A tail without a cover! And we can supply you with a pattern if you want to make your own. See above for the links!
Do you use real fur?
No! Only the fluffiest, finest faux-furs we can find! We dont airbrush our covers.
How do you wear a Tail?
Our Classic Tails have a sturdy built in belt loop at the base, and you can slide pretty much any belt through it, to attach to the body. It keeps the tail in the right place, especially when moving, of course. We also stock really comfortable belts too.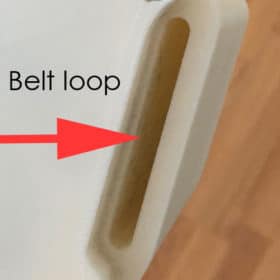 Our DIGITAiLs use our innovative D-Clip. Click here to read all about it.
Do your Tails make sound?
All things with servos make sounds – and how much depends on the move that the Tail is making, and what is covering it.. Although most people don't notice the sound when wearing their Tail, they do make noise when moving. The longer the tail, the more the servos need to work, and that is where the sound comes from.
What about padding?
Almost none of our Tails are padded inside – the kinds of fur we use along with the shapes we cut result in nice flexible and full tails. Some Tailers want really fat Tails, so we also make Extra Wide Tails, that you can select on different creature pages. You can also pad out our Tails. But bear in mind that this can reduce the limit of movement.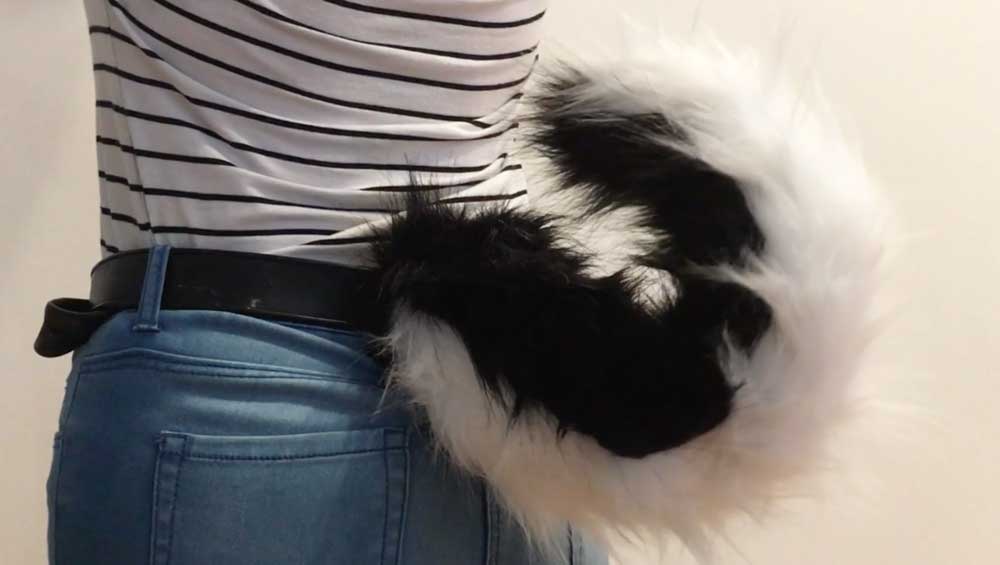 Tell me about the Glow Tips..
Like all of our moving Tails, any alkaline batteries will work but Lithium batteries are highly recommended! They have the power to do all the moves, and keep the lights on longest, lasting 7x longer than Alkalines. Remember, when you switch on the Glow Tips, the batteries are doing two powerful things at the same time, so you really need good batteries. Please note that glow tips only work well when the fur tip is a light colour. Also, the tip is lit whenever the Tail is on.
Are the Tails suitable for children?
Our Tails are not toys, and so are unsuitable for children.
Can I track my order once it has shipped?
Yes u can! Just visit this page with your order number and email address!
What does "Processing" mean on my order status?
"Processing" is our website's way of saying "we have your order, and its in the queue. And we might even be making it now!" – So all is well, we have your order, and things are moving!