The best animatronic tail
in the world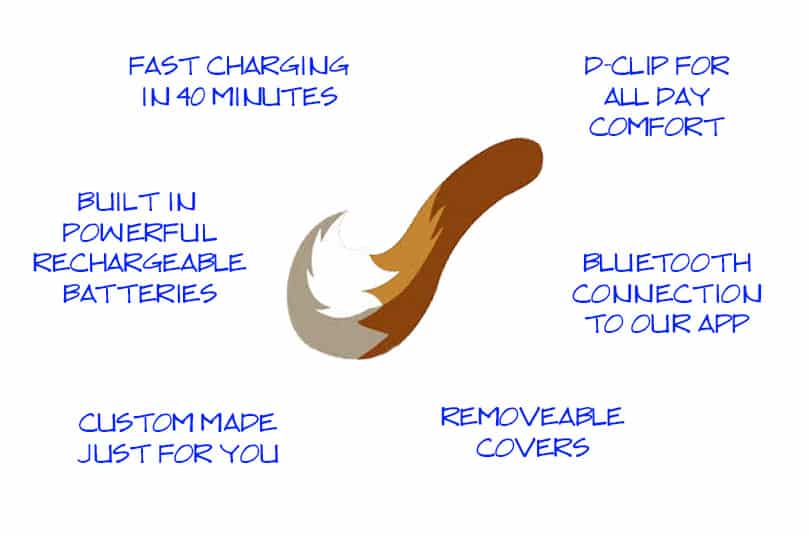 WANT ONE?
Sign up here to get a notification when we are ready to ship!
We will email you when they are out!
Our current Tail, or Classic system as we now call it, is remote controlled, with up to ten moves.
This has served us very well, and we will continue to make it. But it is time for an upgrade.
A TAIL AND APP – LET THE FUN BEGIN!
Create Move Lists, for different moods.
A Move Designer so each move could be unique.
As many moves as we want!
Real time control as we wear it.
A Music Mode and let the Tail dance along in time.
And phone notifications sent to your Tail!
A Pose Mode for the perfect picture!
Incoming Phone Call! Your tail does Crazy Wag!
Alarms (Say, you get a quiver every 15 minutes and an intense wag when your alarm goes off!)
GPS and WIFI Detection! The tail tells you when you have a strong signal!
Tailer friends lists you can share wags with!
Text and email notifications (You Got MAIL!)
And many more features with future updates!
Not all features will be available at launch. The app is currently for Android phones only
All our tails feature:
Customized just for you. For Free!
Removable covers, so you can change it up, anytime!
4 sizes and 2 widths or choose a custom length if you like. 
A worldwide community of Tailers, sharing outfits and chat. 
The DIGITAiL replaces our popular PRO Tail.